Top 5 Germ Hot Spots at Home

Find out where they are.
To help parents uncover the germiest hot spots in their homes, The Clorox Company and NSF International 1 studied five common surfaces in homes of families with young children.
Germ Hot Spots to Be Extra Cautious of:
Bathroom sink
Kitchen countertop
Bathroom faucet handle
Common area doorknob
Kitchen drawer knob
Parents Often Miscalculate the Germiest Hot Spots
The surfaces parents perceived to be the least germy actually had the most germs of the five that were tested.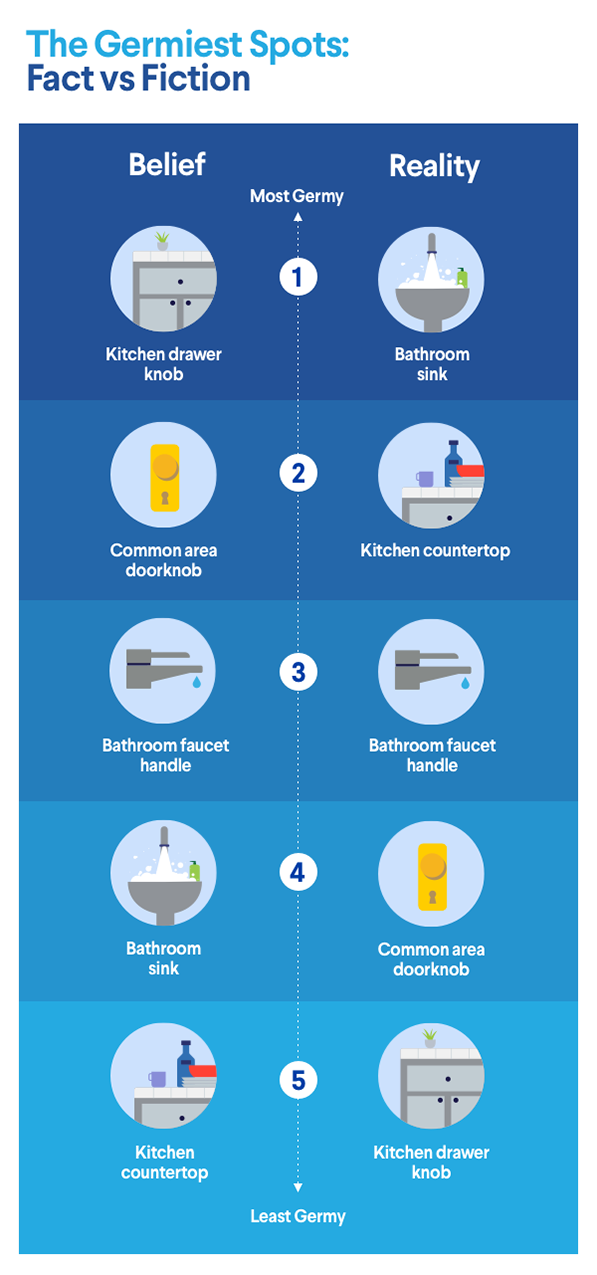 Stop the Spread of Germs
Parents can help prevent the spread of germs by taking the same prevention steps the CDC recommends every cold and flu season:
Showing kids how to wash their hands properly
Teaching them to cough into elbows
Disinfecting frequently touched surfaces with a disinfectant approved to kill cold and flu viruses, like Clorox® Disinfecting Wipes2
Cold and Flu Prevention Tips
Along with disinfecting germ hotspots, keep your families healthy and safe by following these prevention tips:
Get your flu vaccine
Stay home when sick to stop the spread of germs
Practice good hand hygiene
Cough and sneeze into your elbow to prevent the spread of germs

Click on infographic to find out more information about the 5 hotspots:

1. Study conducted by NSF International from August to September 2014 in 20 households in the Detroit metropolitan area with at least one child under the age of six.
2. Clorox® Disinfecting products kill 99.9 percent of germs that can live on surfaces for up to 48 hours, including Staph, E. coli, Salmonella and Strep.
Products You Can Use
---